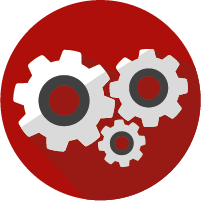 Software
Functional software is definitely a big advantage of the EQU ACC system. An intuitive user interface, many languages, advanced data management capabilities, a wide range of settings and a big selection of access control and attendance reports – all these qualities guarantee that the application can satisfy the needs of even the most demanding clients.
The application signals warnings and alarms concerning device statuses and their power supply, sabotage attempts, data transmission interruptions, etc. – in this way it improves the whole system's effectiveness and safety.
EQU ACC is part of IFTER EQU software, a complex IT solution for safety systems, building automation, and meter circuits. It enhances the possibilities and capabilities of system integration with other systems used to protect and administer facilities.
Access control
The system's task is to give authorised persons access to specific areas, premises, monitored facilities, machines, etc. An administrator can define time limits and access conditions: can make access dependant on credits on a card (e.g. a ski lift, a gym, a solarium) or define passes with a random control plan. There is also an option to define passes dependant on each other. The system performs an anti-passback function that monitors the way people move.
An administrator can also define non-standard passage options:
open passage – everybody can pass without showing an identifier,
temporary passage – for a limited period of time,
bistable passage – subsequent contacts of a card with a reader open or close the passage,
astable passage – a passage is open, when a card is in the vicinity of a reader,
blocked passage – nobody can open the passage.
Employee time and attendance management
Apart from access control functions, the EQU ACC system makes it possible to track employee time and attendance. The system is equipped with dedicated readers and recorders with colour LCD touch screens that can register various events, such as business meetings, coffee breaks etc. They also offer an option of language selection.
Moreover, the system can ascribe time and attendance recording function to any reader within the system. Thus, readers can at the same time perform the function of access control and registration of various events connected with employee time and attendance.